Our People
Joe Kelly, Chief Marketing Officer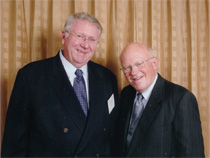 Joe Kelly left his post as a marketing and advertising executive at Chrysler Corporation to co-found Triad Consulting Corporation. He is our Chief Marketing Officer. At Chrysler, Joe held the posts of Dodge Dealer Association Advertising Manager, Dodge Marketing Plans Manager, and Plymouth Advertising Manager. Earlier in his career, Joe was VP-Detroit Sales Manager, ABC Radio Network division of the American Broadcasting Company. He also held posts in television network advertising and network promotion during 22 years of service. Joe has served many leading advertisers in the course of his consulting career, including General Motors Corporate, Oldsmobile, Pontiac, Cadillac, Dial Corporation, Sonic Automotive, GMC Truck, Nordic Track, Ameritech, Principal Financial Group, Aetna Heath Plans, Activision, Toyota, Merck & Co., Accenture, Kohl's Department Stores and United Airlines.
Joe taught advertising management and promotion strategy to undergraduate and graduate students at Wayne State University. He speaks nationally to advertising clubs including the American Advertising Federation's national conference on a variety of topics. A veteran of the advertising world, Joe serves on numerous industry boards. He spent nine years on the Board of Directors of Detroit's prestigious "The Recess Club." Joe was a member of the Board of Directors at Manresa, the Jesuit retreat center in Bloomfield Hills, Michigan. He sat on the Communications Committee at the Detroit Athletic Club, was President of the Detroit Chapter of The American Marketing Association, and was a co-founder and President of the Detroit Radio Advertising Group. He is a Past-President of the Phoenix Advertising Club and a member of the National Board of Directors of the American Advertising Federation and a member of the Board of Directors of the Better Business Bureau of Central and Northern Arizona.
Joe is a graduate of Fordham University. He did his graduate work at New York University's Graduate School of Business where he studied with the late Peter Drucker.
Contact Joe Kelly
Chief Marketing Officer